Events at Bridge + Main Market
We love to host a variety of events throughout the year! With our two retail stores, patio space & big green lawn, Bridge + Main Market is a fun place for the whole family to gather for outdoor markets, vendor pop-ups, live music, food trucks, seasonal activities and more.
CLICK ON INFO BELOW TO LEARN MORE ABOUT OUR UPCOMING EVENTS
--------------------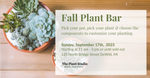 Fall Plant Bar
SUNDAY, SEPTEMBER 17TH, 2023 AT 11 AM – 3 PM
Join us for a day of Fall planting fun at The Plant Studio! Stop at The Plant Studio between 11:00am and 3:00pm on Sunday, September 17th to create your own personalized, potted indoor plant or succulent.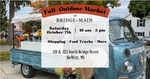 Fall Outdoor Market
SATURDAY, OCTOBER 7TH, 2023 AT 10 AM – 3 PM
Join us Saturday, October 7th from 10 am – 3 pm in Downtown DeWitt, MI for our October Fall Outdoor Market!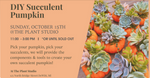 DIY Succulent Pumpkin
SUNDAY, OCTOBER 15TH, 2023 AT 11 AM – 3 PM
Join us on Sunday, October 15th, from 11:00 am – 3pm to build your own Succulent Pumpkin Arrangement at The Plant Studio.
2023 OUTDOOR MARKET DATES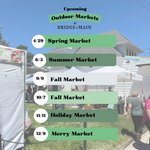 2023 BRUNCH ON THE LAWN DATES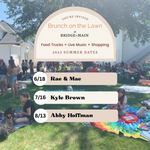 Workshops at The Plant Studio
Join us in The Plant Studio Classroom for one of our upcoming workshops.
Embrace your creativity, learn new tips & tricks or just enjoy some time with good company!
CLICK ON INFO BELOW TO LEARN MORE ABOUT OUR UPCOMING WORKSHOPS
-----------------------------
No Scheduled Workshops at this time